Tsambagarav Trekking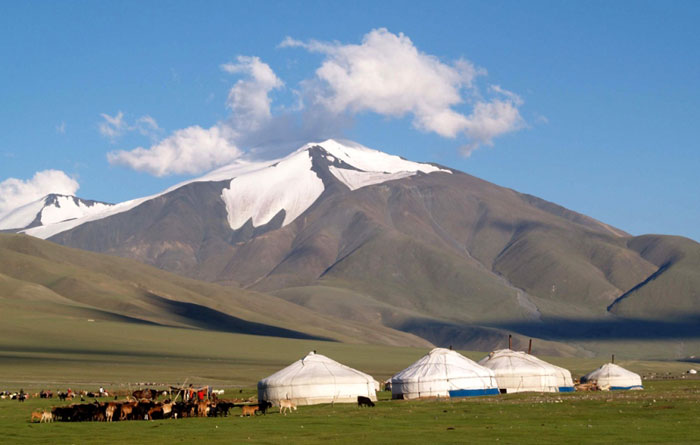 The trek takes place in one of the most remote mountain ranges of the world, in Altai mountain ranges, heading towards its mighty peak of Tsambagarav mountain 4202m, which is the third-highest mountain of Mongolia. 
The trekking adventure will start and end in Khovd town. Local team will meet you at the airport and will skillfully manage the tour. Mongolian horses and camels are part of the team carrying your luggage and tools through the places inaccessible by vehicles. 
Serenity of wild open valleys, snow-capped mountains and stunning lakes make this journey real paradise for a trekkers and nature- lovers. While meetings with local inhabitants you will find their hardness and generosity seem like the arid and spectacular nature which surrounds them.
Day 1:  Arrive in Ulaanbaatar

Arrive in Ulaanbaatar. City tour with visits to Natural History Museum and the Gandan monastery. Short briefing and Prepare for the next day flight to remote Khovd province. Stay overnight in Hotel. LD.

 

 
Day 2:  Flight to Ulgii 
Today we will drive two hours and meet our camel rangers. This place is called Hatuu, which means "hard" as so there are many rock. This valley has many archeological sites like rock printings /snowman's carving/, graves. Some of them are over 5000 years old. Snow capped mountains of valley make many spring waters and small lakes with crystal clear water. Visit to the Kazakh families. Stay overnight in tent BLD.
Day 3:   Nuurt Valley
Today we will start to trek closer to top of valley, you have a chance to see many wild goats/ibex/. Stay overnight in tents.    Visit to Uriankhai and Kazakh families.  BLD.
Day 4:  To Sair Khairhan valley
Today we will trek to the Sair Khairhan valley beautiful snowcapped peaks, rocky valleys and crystal clear spring waters. We visit the nomadic Kazakh family. Stay overnight in tent BLD.
Day 5:  To Hongor-Olon
We will pitch camp just on the north-west side of Tsamba-Garav Uul (one of the highest snowcapped mountains in Mongolia 4208m).  The place called "Hongor-Olon".  There are stunning sunsets and sunrises and good fishing for grayling. Stay overnight in tent. BLD.
Tag 6-7:  Tsamba-Garav Uul National Park
Tsamba-Garav Uul (the altitude 4202m) is one of the most beautiful snowcapped mountains in Mongolia. It is just on the border of three western aimags Bayan-Ulgii, Uvs and Hovd. We will see the beautiful snowcapped peaks, rocky valleys and crystal clear spring waters. We visit the nomadic Kazakh and Uriankhai (one of western Mongolian ethnic groups) families and feel their grade hospitalities. Meet our vehicles and spend overnight in tent. BLD.
Tag 8-9:  Yamaat Valley
We will trek north west side of the TsambaGarav Uul we have the chance to hike easly closer to snow caps. On the east of TsambaGarav Uul we trek by the narrow beautiful canyon. Stay overnight in tent. BLD.
Day 10:   To Lake Bayan-Nuur
Today we will trek by beautiful rocky red mountains from long distance you will see the snow capped Altai mountains and remote wild country. In the end of day, we reach lake Bayan-Nuur. Meet the Kazakh eagle hunter with his Golden Eagle and see the biggest Turkic carved stone in Western Mongolia Stay overnight in tent. BLD.

Day 11:  Drive back to Ulgii
Drive to the center of Bayan Ulgii province. Local hotel. Today is the time we say good- bye to our local team and the drivers. BLD.
Day 12:  Flight to UB. 
Take a flight to Ulaanbaatar. Free hours. Evening cultural performance. Hotel. BLD.

Day 13. Transfer to the Airport. Depart from Ulaanbaatar.
Services included in the cost:



All activities described in the itinerary, twin/double basis hotel accommodation (2 nights in UB and 1 night in Ulgii) (single accommodation for a surcharge)

Tent stay (11 nights) in countryside

English speaking guide service, local mountain guide and field cook, all camping equipment (including sleeping pad, but not sleeping bag),

Entrance fee to Protected Area and sightseeing fees

All transportation by minibus in the city and by 4WD Russian minivan in the countryside, meals of breakfast, lunch /picnic during the trekking in countryside and dinner as mentioned per day itinerary

Round trip domestic flight (UB-Khovd-UB) with transfers

  Services not included in the cost:


International air transportation to and from   Mongolia

Travel insurance

Mineral (bottled) water and alcoholic      drinks

Meals in Ulaan Baatar

Sleeping bag

Tips and gratuities

Laundry and items of a personal nature

 

Service Voucher: This Itinerary, with   Services Included, serves as your Service   Voucher. All services mentioned herein will   be provided as stated.