Classic Altai Trekking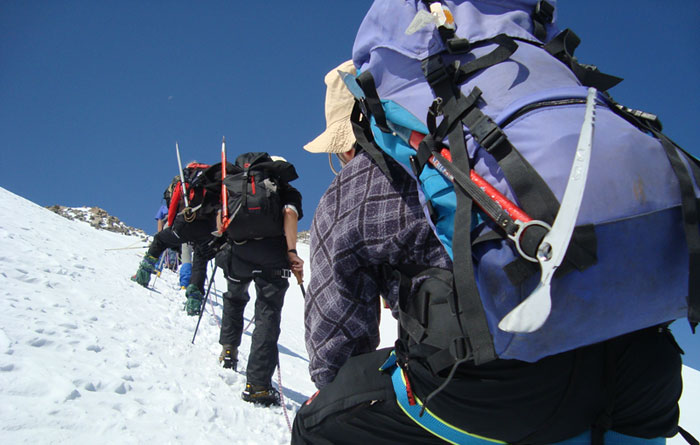 We dedicate this 2-week trekking trip to the devoted trekkers and mountaineers. The trip takes you to the most western point of Mongolia, the majestic Mongol Altai mountains – country's largest and highest mountain range with glacier topped peaks over 3000 meters, crystal clean mountain rivers and glistening streams where inhabit world's largest wild sheeps -argali, ibex, snow leopard, wolves, eagles and many other bird species.

The name Altai Tavan Bogd (Five Holy Peaks of Altai) was given to a cluster of 5 dramatic peaks that tower this extensive Mongol Altai mountain range. The climate is extreme with very little vegetation, giving the surrounding landscape a barren appearance. Trekking session leads us to the holy 5 peaks where the highest is Khuiten peak at 4374m. We trek through the snowy mountains, cross the longest glaciers of the country.




 



Day 1. Arrive in Ulaanbaatar. Transfer to the hotel. Hotel.

Day 2. Flight to Ulgii - the center of Bayan-Ulgii province where 90% of population is Kazakhs who have their own language and unique culture. Kazakhs are famous for its Eagle hunting game tradition. Meet our vehicle and the local team. Transfer to Sagsay river. Settle our camp and overnight in tent.

Day 3. We are entering Altai high mountain area and arrive at Shiveet Khairkhan mountain- the closest place to the Altai peaks reachable by the car. We are traveling at the altitude of 2500-3000 m.
We will visit local kazakh family to explore their life as well as rent horses for our further trip. Prepare our luggage for the next 3 day-trekking trip to Altai peaks.

Day 4. Leave our vehicle and load our luggage to the horses and trek toward the Altai Tavan Bogd peaks of 4100-4374m. Arrive at the foot of the high peaks. Tent

Day 5. Start our trekking towards Potanin Glacier and Mount Altai Tavan Bogd. The Tavan Bogd (means Holy Five Peaks) highest peaks in Mongolia - Khuiten Uul- 4374m, Peak Malchin, Peak Naran, Peak Burged and Peak Olgii. Meaning the 5 Kings it comprises of five neighboring peaks. While trekking we will cross glaciers which connect those five peaks. Arrive at the camp. Overnight in tent.

Day 6. Arrive at Tsagaan Gol to change our horses. Tsagaan Gol, or White river, owes its color to glacial milk, the suspended powder of rock eroded be the high glaciers. Tent near nomad family. Talking with nomads and sharing our experiences.

Day 7-9. Start 3- day horseriding towards Khoton and Khurgan lakes. The lakes are resource of Mongolian second largest Lake khar Us (Black Water) and have crystal-clear water and are fed by many rivers and streams originating in the Altai Mountains. The landscape around the lakes is very beautiful and picturesque with the snow-capped mountains surrounding them, green meadows at their foothills and larch forests in the middle and sand dunes. This is nice place to hiking, swimming, birdwatching. On the way we will constantly visit local families.

Day 10. Meet our vehicle team. Relax day at the beautiful lakes. Optional hiking and trekking activity. Overnight in tent.

Day 11. Drive towards Khovd town. Visit local family. Overnight near Tolbo lake in tent.

Day 12. Continue our driving and arrive in Khovd town. Short touring in the town. Overnight in local hotel.

Day 13. Flight back to UB. Free activities in the city. Hotel.

Day 14. Depart Ulaanbaatar.



Price starts at 2350 U$D per person
Services included in the cost:

Accommodation: Hotel***,* ger camp, tented camp
Guiding and interpreting service
Full board meals
Domestic flights
Transport: vehicle 4x4 or minivan
Entrance fees to protected areas and national parks
Museums and cultural performance
Horses Camping equipments
Services not included in the cost:

International airfare
Personal equipments
Optional activity cost
Excess baggage charges
Single room supplement
Alcoholic drinks
Sleeping bag
Travel Insurance