Natural & Cultural delights in North-West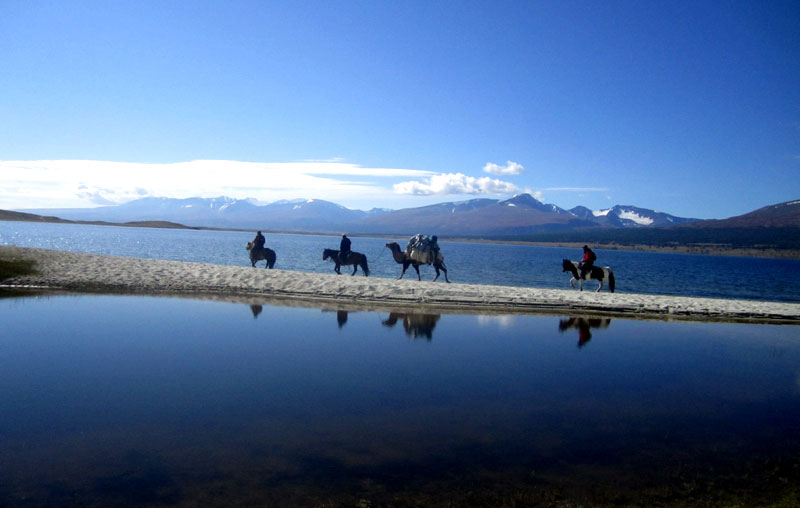 | | |
| --- | --- |
| Natural & Cultural delights in North-West   | --- |
New trails to the north-west part of Mongolia - where the great contrasts of nature exist! In general, people know that the landscape elevation rises up towards the west part of Mongolia comprising high mountain ranges of Altai and Khangai. But do all people know that we also can find golden sand dunes as well as fantastic views of sparkling lakes nestled between the sand hills there?
Along this trip you have an opportunity to discover all those beauties in a very peaceful way. You will constantly meet local people of different mongolian ethnic groups, which are as different as you go further to the west. This is a very rewarding trip in a part of Mongolia rarely visited by foreigners yet.

The trip is suitable for people physically fit and spiritually adventurers.

 

 
Day 1. Arrive in Ulaanbaatar. City tour. Visit to National History Museum and Gandan monastery. Welcome dinner and briefing on upcoming tour. Hotel.

Day 2. Flight to Uliastai town, a center of Zavkhan province . This province lies in the Khangai mountain range. Reach Otgontenger peak (4021m), which is one of the Sacred mountains declared by the Mongolian State. Those sites are treated with utmost respect. Within the vicinity of these sites, the cutting of trees, hunting of wild animals or digging of the land is prohibited. Dating back to pre-Buddhist animist beliefs, these taboos serve the double purpose of worship and protecting the surrounding environment. Later incorporated into Buddhism, people continue to practice these traditions nowadays.
Meet our travel team at the airport and arrive in already settled tented camp. Get acquainted with the team: drivers, chef and the local guides. Tented camp.

Day 3. Drive to Khar Lake /Black Lake/ - another wonder of natural beauty. This lake occupies 40 sq.km area, and surrounded by magic sand hills that its beauty could impress one. The lake reaches 40m deep point.Hiking in vicinity areas and riding two-humped Mongolian (bacterain) camel. Tented camp.

Day 4. Arrive in Songino village. Visit to local herders' settlement to have full interact with nomads. You have an opportunity to enjoy these days at the nomadic settlement familiarizing with its lifestyle. Explore Airag valley and visit a site of ancient stone monuments. Overnight in tent close to herder's settlement.

Day 5-6. Drive to the west heading to the Uvs province- a chain of lakes, wetlands, sand dunes and high mountains. Arrive at Khyargas lake – 2nd largest salt lake of Mongolia. The lake has abundant fish and it is a nice stop for birdwatching. Tented camp.

Day 7. Kharkhiraa Valley – a beautiful river valley surrounded by dense fine forests meadows carpeted colorful wild flowers. Twin peaks of Kharkhiraa mountain (4037m) and Turgen mountain (3978) dominate the area. People of Khoton ethnic group inhabit in this area. Arrive in Uureg lake which lies at the borders od Uvs and Bayan-Olgii provinces. The lake is surrounded by peaks with 3.000m height and more such as Tsagaan Shuvuut mountain (3.496m) and is a great place for trekking, hiking and fishing. Tented camp.

Day 8-9. Enter Bayan-Olgii province. Unlike to other provinces its population is dominated by Turkic Kazakhs, which have their own language, customs and Muslim religion. On the way visit Kazakh family, living in slightly larger and colorful gers. They train eagles, falcons hawks to collect marmots, small foxes and wolves and return to the ger, where the Kazakhs use them for food. Tented camp near their settlement.

Day 10. We are entering Altai high mountain area and arrive at Shiveet Khairkhan mountain- the closest place to the Altai peaks reachable by the car. We are travelling at the altitude of 2500-3000 m. We will visit local kazakh family to explore their life as well as rent horses for our further trip. Prepare our luggage for the next 3 day-trekking trip to Altai peaks.

Day 11. Leave our vehicle and load our luggage to the horses and trek toward the Altai tavan Bogd peaks of 4100-4374m. Arrive at the foot of the high peaks. Tent

Day 12. Start our trekking towards Potanin Glacier and Mount Altai Tavan Bogd. The Tavan Bogd (means Holy Five Peaks) highest peaks in Mongolia - Khuiten Uul- 4374m, Peak Malchin, Peak Naran, Peak Burged and Peak Olgii. Meaning the 5 Kings it comprises of five neighboring peaks. While trekking we will cross glaciers which connect those five peaks. Trekking distance 20km appr. Arrive at the camp. Overnight in tent.

Day 13. Back to Olgii town

Day 14. Take a flight back to Ulaanbaatar from Olgii town. Visit State department store for shopping souvenirs and presents. Evening cultural performance. Hotel.

Day 15. Transfer to Airport.
---
Services included in the cost:

Accommodation: Hotel***,* ger camp, tented camp
Guiding and interpreting service
Full board meals
Domestic flights
Transport: vehicle 4x4 or minivan
Entrance fees to protected areas and national parks
Museums and cultural performance
Camping equipments

Services not included in the cost:

International airfare
Personal equipments
Optional activity cost
Excess baggage charges
Single room supplement
Alcoholic drinks
Sleeping bag
Travel Insurance