Discovery to the far west Mongolia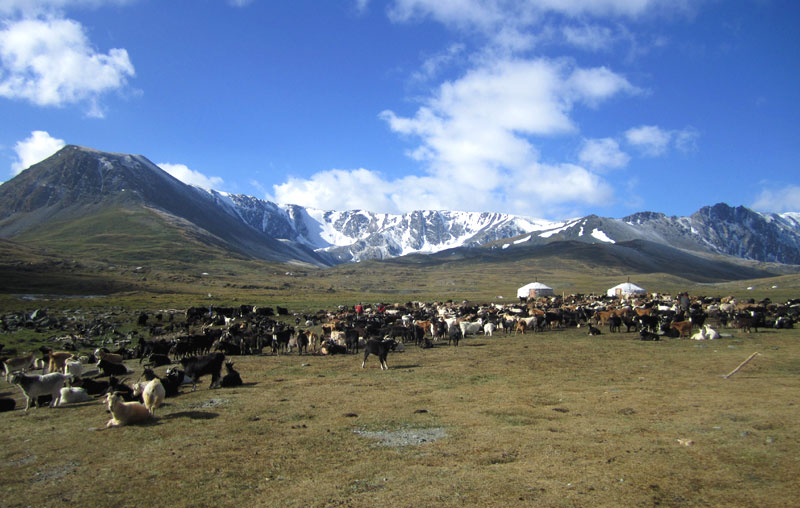 | | |
| --- | --- |
| Discovery to the far west Mongolia   | --- |
| | | |
| --- | --- | --- |
| Perfect jeep over landing discovery tour, just an another option of "Traversing to the far west" program. Here the route is drawn down to the south from the middle of the program and it ends in Olgii town of Bayan-Olgii province. We circled the program in a 16 - days to make it available for time limited adventurers. |   |   |
Day 1. Arriving in Ulaanbaatar. Visit to National History Museum and Gandan monastery. Welcome dinner and briefing on upcoming tour. Overnight in hotel.

Day 2. Early in the morning start driving to Kharkhorin, which is settled in legendary Orkhon valley. It was formerly a great capital city built by the order of Chingis Khaan and finished by his son Ogodei in 1235. But in 1380 it was destroyed by Manchu soldiers completely. Later on in 1586 Abtai khaan raised the Erdene zuu monastery, the first Buddhist temple complex, at the ruins of this famous city. Although most of the monastery buildings were destroyed during the communist repression of 1937, major buildings and 108 stupas are survived and the exhibits are displayed for the visitors. We will visit Erdene zuu monastery. Overnight in tourist camp.

Day 3. Charming lake Ogii. This Day  is spent for your leisure. You can walk along the lake shore, ride horses or take a boat for a water adventure. The camp offers Mongolian costumes to try on, and take pictures in beautifully carved Mongolian ger. Overnight at the tourist camp.

Day 4. We head to the west. Have a stop at Tsetserleg town of Arkhangai province to have a visit to local museum which attracts visitors by its interesting exhibits. Arkhangai lies in the northern slopes of Khangai nuruu mountain range and it is also known as Mongolian Switzerland for its mountains, cliffs, fast flowing rivers and lush green forests.While traveling in this province we will probably see domestic yaks which usually thrive in high mountain pastures and hillsides. We will cross Gurviin davaa pass those Day s. Overnight in tented camp.

Day 5-6. Terkhiin Tsagaan Lake . It has a fresh water and the volcanic area around it is certainly the natural highlight and is one of the beautiful lakes of Mongolia. The lake, birdlife and mountains are protected within the 73000-hectare Khorgo-Terkhiin Tsagaan lake National Park. Fishing, swimming, hiking and walking activities…Overnight in tent.

Day 7-8. Encounter the Khangai mountain range and pass Solongot and zagastain mountain-passes. Short stop at Uliastai town of Zavkhan province. Here we will stock some food and water. Beautiful natural sites will surround us.

Day 9. Arrive at Ereen nuur lake, surrounded with lovely sand hills. Easy walks and treks. Tented camp.

Day 10-11. At the entrance to Khovd Province we pass Durgon lake and drive in the valleys between twin summits of Jargalant Khairkhan (3796m ) and Bumbat Khairhan (3464m) mountains. Reach up Tsenkher Cave – these caves are famous for their remarkable rock paintings which are an outstanding expamle of the cave art of Stone Age: man depicting bulls, ibex, wild sheep, the animals, birds, snakes and trees are painted on a yellow and white background in deep red and brown pigments. Research confirms that Stone Age hunters populated the whole of the mountainous region of western Mongolia along the Altai and Great lake areas. After visiting this interesting site arrive at Khar Us Lake. Enjoy the lake and its birdlife. Overnight in tent.

Day 12-13. Head to the northwest towards Bayan-Olgii province. Come close to magnificient Tsambagarav mountain(4193m). Trekking and climbing sessions while enjoying the natural beauty and meeting with local people. Visit Eagle hunting kazakh family.
Discover their unique lifestyle, talkings with family members. Overnight in tents.

Day  14. Pass Tolbo lake and arrive at Olgii town. Unlike to other provinces its population is dominated by Turkic Kazakhs, which have their own language, customs and Muslim religion. Overnight in local hotel.

Day  15. Take a flight back to Ulaanbaatar. Free hours at the hotel, or you can go for personal explorations. Shopping . Traditional folk performance in the evening. Hotel.

Day  16. Transfer to Airport. Depart from Ulaanbaatar. 
---
Services included in the cost:

Accommodation: Hotel***,* ger camp, tented camp
Guiding and interpreting service
Full board meals
Domestic flight
Transport: vehicle 4x4 or minivan
Entrance fees to protected areas and national parks
Museums and cultural performance
Camping equipments

Services not included in the cost:

International airfare
Personal equipments
Optional activity cost
Excess baggage charges
Single room supplement
Alcoholic drinks
Sleeping bag
Travel Insurance