Eagle Hunting in Deluun valley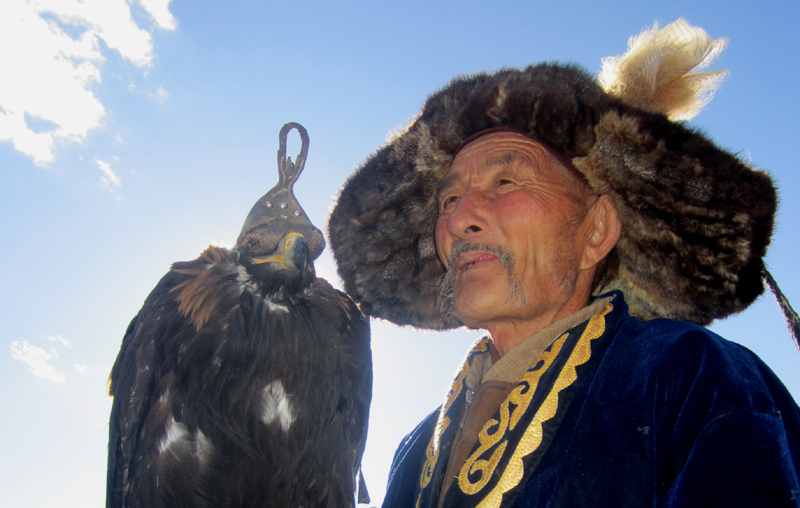 Riding out to the peak of the mountains each day, you will be introduced firsthand to the ancient custom of hunting with Golden Eagles.

Specially timed during the winter months, Khazaks, in their ancestral tradition, track small rabbits and foxes in the snow. In most cases, the hunters prefer to raise female eagles, which weigh up to one-third more than males, and have proven themselves as faithful and committed hunters.

Khazaks release the eagles into the wild at the age of about ten, while they still have half their lifespan remaining, in order to ensure preservation of the species. 

 

 
 

Day 1. Arrive in Ulaanbaatar. City sightseeing tour with visits to National History Museum and Gandan monastery. Hotel.

Day 2. Flight to Ulgii. Transfer to airport and take a flight (3.5hours) to Ulgii town, the center of Bayan-Ulgii province. Our guide and drivers will pick up you at local airport and move to the town. (If time allows we will be visiting local ethnographic museum). Stay overnight in local hotel. BLD

Day 3. Today we will travel to Deluun valley, Deluun soum and you will visit Kazakh families in their winter settlement. During the winter they stay in small houses in order to keep warm against cold wind. Few days you will stay in the house of Kazakh Eagle hunter family. BLD

Day 4-7. Golden Eagle hunting with Kazakhs

You will stay with the Kazakh hunters and explore their unique tradition for training the Golden Eagle. These huge birds weight up to 6.5 kilograms with wingspan of seven or eight feet. For 2-3 days you will go (riding Mongolian horse) to surrounding mountains with Kazakh hunters for looking for wild game to hunt with magnificent Golden Eagles. Stay overnights in the house of Kazakh family. BLD

Day 8. Today you will travel back to Ulgii town and explore cultural heritages of western Mongolian people. Visit Muslim mosque, ethnographic museum and local market. Stay overnight in local hotel. BLD

Day 9. Flight back to Ulaanbaatar. Relaxing hours in the hotel. Visit to Bogd Khan Winter Palace Museum and National folk and dance performance in the evening. Hotel.

Day 10. Transfer to the Airport. Depart from Ulaanbaatar.

 

---

Services included in the cost:

Accommodation: Hotel***, Kazakh family stay
Guiding and interpreting service
Full board meals
Transport: vehicle 4x4 or minivan
Entrance fees to protected areas and national parks
Museums and cultural performance
local guide
Horses

Services not included in the cost:

International airfare

Domestic airfare
Personal equipments
Optional activity cost
Excess baggage charges
Single room supplement
Alcoholic drinks
Sleeping bag
Travel Insurance