Eagle Hunting in Bayannuur valley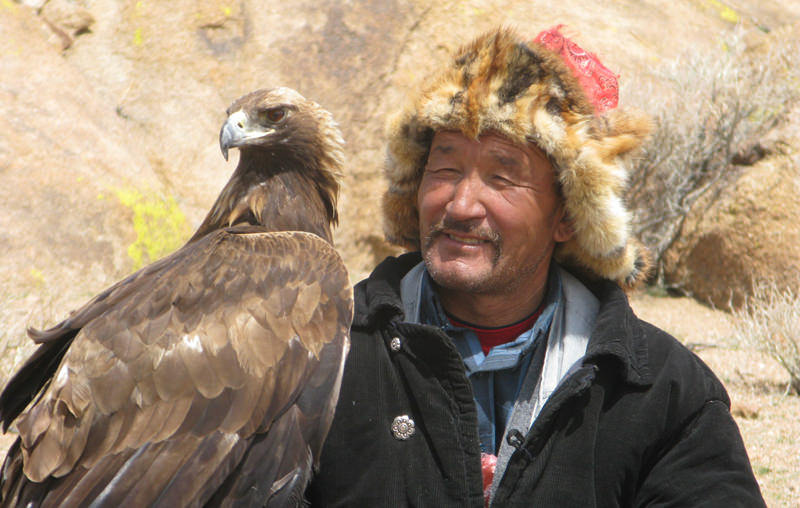 One of the oldest and most revered and spectacular traditions for the Khazakh people, passed down from generation to generation, is hunting with specially trained eagles. It exhibits the real pride of the Khazakhs.
They annually hold an exceptional feast called the "Eagle Hunting" in the extreme western area of the majestic Altai Mountains among the river glaciers and beautiful landscape, unique culture in Bayan-Ulgii    
Golden Eagle hunting in Bayannuur lake valley 
Day 1 Flight to Ulgii 
Transfer to airport and take a flight (3.5hours) to Ulgii town, the center of Bayan-Ulgii province. Our guide and drivers will pick up you at local airport and move to the town. (If time allows we will be visiting local ethnographic museum). Stay overnight in local hotel. BLD  
Day 2 Travel to Bayannuur  soum 
Today we will travel to Bayannuur soum and you will visit Kazakh families in their winter settlement. During the winter they stay in small houses in order to keep warm against cold wind. Few days you will stay in the house of Kazakh Eagle hunter family. BLD 
Day 3-6 Golden Eagle hunting with Kazakhs 
You will stay with the Kazakh hunters and explore their unique tradition for training the Golden Eagle. These huge birds weight up to 6.5 kilograms with wingspan of seven or eight feet. For 2-3 days you will go (riding Mongolian horse) to surrounding mountains with Kazakh hunters for looking for wild game to hunt with magnificent Golden Eagles. Stay overnights in the house of Kazakh family. BLD  
Day 7 Travel back to Ulgii town 
Today you will travel back to Ulgii town and explore cultural heritages of western Mongolian people. Visit Muslim mosque, ethnographic museum and local market. Stay overnight in local hotel. BLD 
Day 8 Flight to Ulaanbaatar 
Flight back to Ulaanbaatar .