Tavan Bogd-Camels, Kayaks, Rivers and Rafts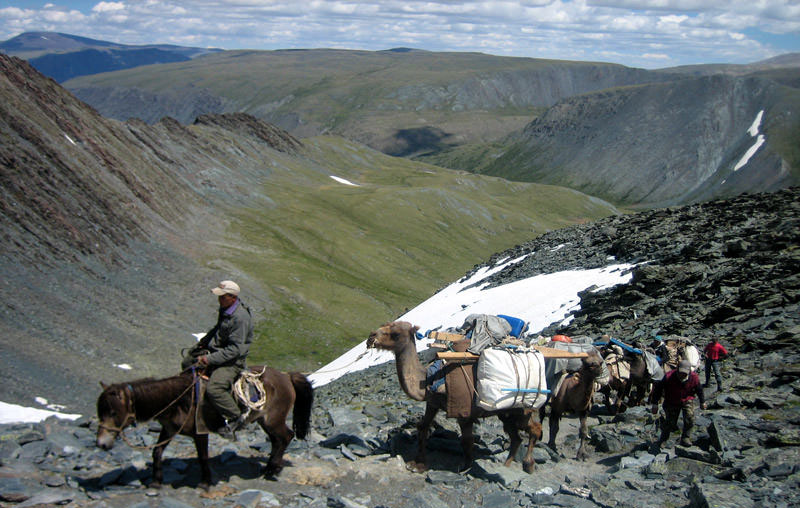 Go deep into the Altai Mountains to a remote corner of the world where the borders of Mongolia, Russia, and China all meet. Be the first to raft or kayak first descents of the Tsagaan Gol (White River)!
Hike or horseback ride to the source of the Tsagaan Gol, the Potanin Glacier, then pay our respects to Mongolia's highest mountain, the massif Tavan Bogd Uul, or 'Holy Five Peak' (4374 m/14,350 ft.) Trek up nearby Malchin Mountain on the border with Russia for enhanced exercise and views. Take time to wander among petroglyph and burial sites from millennia gone by, and respectfully visit a timeless Shaman ceremonial site at the mysterious Shiveet Khairhan (Sacred Mountain).
Use camels to cross 10,000 ft. Takalbai Pass for the first raft descent of the Class III/IV Tsagaan Usnii Gol. Explore other drainages for white-water potential, ride horse with the local Kazakhs, or reel in some fresh lennock, then relax in evening at our comfortable base camp in the heart of the incredibly scenic Altai Tavan Bogd National Park. Finish off the trip is a three-day river expedition originating at the source of the majestic Khovd Gol (class II/III), western Mongolia's largest and longest river. 
Trip Length: 16 days