Getting into Mongolia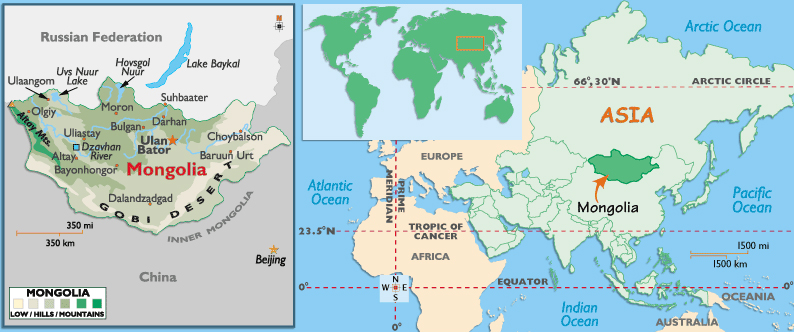 BY AIR:

Ulaanbaatar is the only international airport in Mongolia. There are a number of International Airlines with direct flights to Ulaanbaatar.
Moscow and Irkutsk (Russia), Beijing and Huh Hot (China), Seoul (Korea), Tokyo and Osaka (Japan), Berlin (Germany)
Flights from Moscow to Ulaanbaatar by AEROFLOT (Russian Airlines) and MIAT (Mongolian Airlines)
Flights from Beijing to Ulaanbataar by MIAT and Air China (China Airline);
Flights from Seoul to Ulaanbaatar by MIAT and Korean Air (Korea Airline);
Flights from Tokyo and Osaka to Ulaanbaatar by MIAT
Flight from

Berlin

to Ulaanbaatar by MIAT
Tourists from Europe usually come to Mongolia via Moscow. We advise tourists coming from North America to come to Mongolia via Seoul unless they want to stop in Beijing.

International flights;
Domestic flights;
Need Domestic tickets in Mongolia? Just let Us Know.
BY LAND:
You can go for overland travel to enter Mongolia from both China and Russia.
Ulaanbaatar, is connected via the Trans Mongolian Railway to China and Buryatia. In Ulan Ud, capital of Buryatia, the Trans Siberian Railway (leading from Moscow to the Russian Far East, Khabaravosk, Nakhodka etc...) connects to the Trans Mongolian Railway.

Trains from Moscow to Beijing run once a week in each direction and take about five days for the whole trip. There are also `local trains' between Irkutsk and Ulaanbaatar which take about 24 hours one way. Similar local trains run between Ulaanbaatar and Beijing, which is both slower and cheaper than the direct train service. Catch trains from anywhere in China to Datong and then onto Erlian, where you can cross the border by jeep. From the Mongolian border town Zamyn Uud you can continue to Ulaanbaatar by road. Since the Transmongolian Railway sports only one track this is a bottleneck for railway traffic which results in these one train/week schedules. 
For many tourists that are coming in Mongolia, train is the only practical and cost effective method of travelling within a country that spans eleven time zones and two continents, for foreign travellers it is a unique way to view the grandeur of Russia, Mongolia and China and experience real Russia, Siberia, vast Mongolia and its people first hand.
FROM CHINA
The only land route open is at Erlian-Zamyn Uud, the same place where the train crosses. There are lots of Mongolian jeeps that ferry passengers back and forth all day. In Erlian you catch them at the bus station and in Zamyn Uud you get them at the lot in front of the train station.  The border is open every day except holidays. From Zamyn Uud you need to hang around for the train to UB or Sainshand, usually departing around 5pm. From Erlian you can plunge into China by bus or train (buses are more frequent).
FROM RUSSIA
There are four open land borders (three road borders and one train border). The road borders include western Mongolia (Tsagaanuur-Tashanta), northern Mongolia (Altanbulag-Khyakhta) and eastern Mongolia (Ereentsav-Solovyesk). The train border connects Russia with the town of Sukhbaatar.
For overlanders with their own vehicle, the western Mongolia route is a good entry or exit point because it brings you right in the Altai Mountains. The northern entry at Altanbulag is easily connected to Ulaanbaatar (about a six hour drive). The eastern Mongolia border crossing at Erentsav is pretty remote and as far as I know nobody has used it. The crossings are open 9-noon and 2-6pm daily except holidays.
Need more information? Just let Us Know.